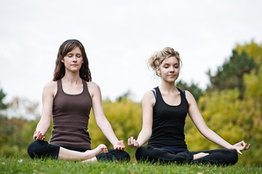 An Introduction to Meditation
Sayreville Public Library
Sunday, Feb. 24, 2:00PM-4:00PM

or call 732-727-0212.
In this class, you will get an overview of meditation basics to get you started on the path to your own meditation practice. Meditation aids in relieving the stresses and anxieties that get compressed in our mind, body and soul with our hectic daily lives.
Some topics covered will be: seat positioning, the various types of meditation, mantras and mudras, and the benefits and hindrances to your practice. We will experience a variety of the many types of meditation available so that you can find one that works for you.
20 attendees maximum. Register early to guarantee yourself a spot! Must be 16 or older. Presented by Laura Steiner Bowes, certified yoga and fitness instructor.