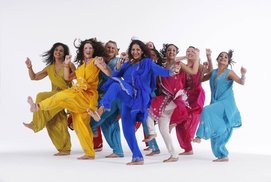 Move to the Music---Bollywood Style!
Sayreville Public Library
Tuesday, Apr. 16, 6:30PM-8:00PM

or call 732-727-0212.
The beats of Indian music and the beautiful dance styles of India are fast becoming part of mainstream culture. Movies from India have shared ideas with Hollywood going back as far as the first moving pictures from the early 1900s. Learning about Bollywood music and dance will introduce participants to the popular culture of India and encourage an understanding of the relationship we as Americans share with India. So put on your dancing shoes and get ready to move to the music, Bollywood style!
To register, contact Alaina at 732-727-0212 ex. 25, email her at alainad@lmxac.org, or register online now!
Please note that this is the Adult version of the program FOR ADULTS ONLY! The Teen program will take place at 2:45PM.