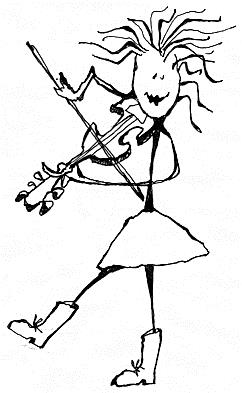 Caryn Lin in Concert: An Electric Violinist for the Space Age!
Sayreville Public Library
Sunday, Jul. 21, 2:00PM-3:00PM

or call 732-727-0212.
Caryn Lin, "An electric violinist for the space age!"….. plays her electric violins and uses sound effects & looping to create short, on the spot recordings of her violin, voice, percussion instruments, & other sounds. Layers of sound over deceptively simple melodies result in music that is both otherworldly & totally catchy; mesmerizing and completely unique! It is eclectic, combining New Age, World, Classical-ish, & Rock seamlessly. Come to this interesting musical event which is sure to entertain the whole family!

Biography: Caryn Lin is a classically trained violinist who became an electric violinist and education innovator. She plays her electric violins using looping techniques to create short, on-the–spot recordings of her voice, percussion instruments, and other sounds. Performance venues include Lincoln Center, Six Flags, the Kimmel Center, the Crayola Crayon factory, a monastery in the French Alps, & thousands of kids in school "cafetoriums". Her music has been featured on MTV's The Real World, and on 150 international radio stations including Sirius/XM satellite. She appeared performing in the movie Philadelphia. Caryn is currently recording her sixth studio album.

If you have questions or would like to register, contact Alaina at 732-727-0212 ex. 25 or email her at alainad@lmxac.org.