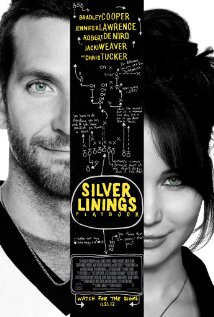 Movie Matinee-Silver Linings Playbook
Sayreville Public Library
Friday, Sep. 27, 2:00PM-4:00PM

or call 732-727-0212.
Join us for our monthly movie matinees to enjoy popular movie hits on our new 84" x 84" screen and fresh popcorn from our popcorn machine! Watch a movie and meet fellow movie enthusiasts! Today, we will be showing Silver Linings Playbook! This Academy Award winning film stars: Bradley Cooper, Jennifer Lawrence, Robert De Niro, Jacki Weaver, & Chris Tucker.

Synopsis: Based on the bestselling book by Matthew Quick, the riotous and poignant story of how a man who has lost everything, his house, his job, his wife, reconnects with himself and creates his own silver linings from the bonds he forms with his family and friends.


"... is so good, it could almost be a terrific old classic." - Roger Ebert
"... the exuberant new movie from David 0. Russell, does almost everything right." - New York Times
"I say good for Russell for risking a protagonist who requires some patience and forgiveness." - Michael Phillips
Adults only, please. Rated R. 122 minutes. Contact Alaina by phone at 732-727-0212 ex. 25 or email alainad@lmxac.org to register, or register online!

Thank you to the Friends of the Library for making the Movie Matinees of 2013 possible!